Hey y'all! I am currently having my website redone by the AMAZING Najla Qamber at Najla Qamber Designs. Which means this area will be under construction for the next week or so.
(I freaking love The Simpsons!)
Anywho, I am moving my website from WordPress to Blogger, because in completely honesty, I just don't understand WordPress. We don't get along, so I'm leaving him. (It happens, though I'm still hoping I'll get some alimony for all the crap I had to put up with. ;))
On a serious note (I think) please be patient with me as myself and Najla get everything worked out and transferred. The site will be more user friendly, MORE fun, and definitely MORE naughty. And you know me, I'm always down for some naughty fun!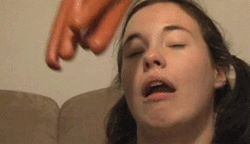 Yeah… I think I'll leave you with that image.
<33